We are a completely volunteer organization. We receive no money from the state or national parties. That means we must depend on local Democrats like you to support us.
In 8 years we have never had a breach of security.
The easiest way to contribute is to use Act Blue to donate using the blue button below.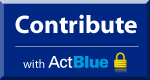 Sustaining Members
Sustaining members are contributors who give at least $10 a month or $120 a year.
When you become a sustaining member, your donation keeps the lights on and our doors open so that Democrats in Brazos County have the resources necessary to work year around on getting and keeping Democrats in office.
You can set up your sustaining membership form by calling us at 979-779-5600 or by emailing us at [email protected].
Every donation makes a difference.